Your future begins with your education. Why not begin by studying in Idaho?
Study Idaho is your single resource for finding the college or university that's right for you.
Our goal at Study Idaho: providing students and educational advisors with information about the quality educational institutions throughout the state, including public universities, private colleges, and others.
As a membership-driven nonprofit entity founded in 2013, Study Idaho is focused on increasing the number of international and U.S. students that enroll in Idaho's colleges and universities. In addition, we strive to facilitate partnerships between Idaho's schools and schools abroad to develop reciprocal programs and relationships.
We believe studying in Idaho is one of the best educational opportunities in the U.S., and we embrace all cultures and foster cross-culture understanding.
As your journey begins, we welcome you to take the first step toward the future you imagine. It all starts with your Idaho education.
You've come to the right place to find the school in Idaho that's right for you. 
Search for schools on the Schools page and learn more about each school. 
Envision your Life in Idaho as you explore all the state has to offer you, from a vast range of outdoor activities to the cultural opportunities and vibrance of city life.  
No matter your focus or area of study, Idaho has so many great schools to match your goals. We can't wait to welcome you!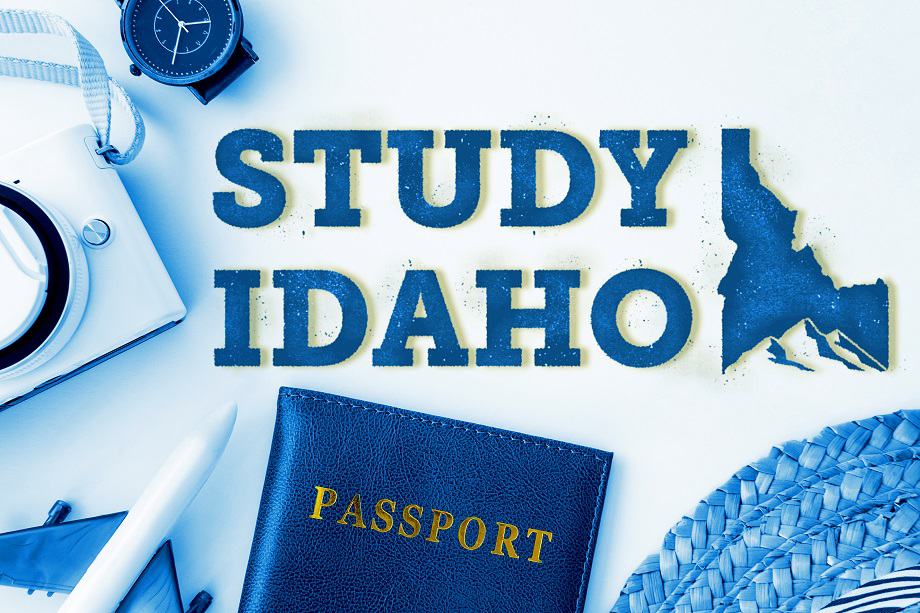 A Message for Educational Institutions: Here's how becoming a member school of Study Idaho can benefit your college or university.
Study Idaho is focused on raising awareness of the quality educational opportunities Idaho has to offer students worldwide.
The Study Idaho consortium includes educational institutions ranging from elementary through high school, community colleges, and public and private colleges and universities in the state of Idaho. Study Idaho works in cooperation with the U.S. Department of Commerce's U.S. & Foreign Commercial Service and the State Department's EducationUSA.
Why do these respected institutions choose to become members of Study Idaho?
Here's an overview of the many reasons.
The mission of Study Idaho is to promote Idaho as a premier study destination to international students, researchers, visiting professors, and other exchange visitors from around the world. Our objective is to recruit and increase the number and diversity of international students that participate in the many educational opportunities that our state has to offer.
Formed in 2013, Study Idaho is a membership-based non-profit public benefit corporation of the State of Idaho. Its aim is to create a consortium of schools focused on growing international student enrollment and to specifically establish a brand for all accredited institutions across the state.
Study Idaho attracts international students to their campus communities in an increasingly competitive market place by leveraging the knowledge base, talent, and combined marketing power of its members.
Study Idaho and its Board of Directors strongly support our shared value of increased campus diversity and internationalization. Through cooperation and collaboration, we are confident we can increase and improve our efforts to attract international students, teachers, and visitors to our great state.
How International Education Supports our State and the Economy
Recent data (2021) shows that the 2,952 foreign students in attendance at Idaho colleges and universities contributed more than $49.6 million and 413 jobs to the Idaho economy.
On a national level, international students studying at U.S. colleges and universities contribute $28.4 billion and support 306,308 jobs to the U.S. economy*. For every three international students, one U.S. job is created and supported by spending occurring in the higher education, accommodation, dining, retail, transportation, telecommunications and health insurance sectors.

The economic contributions of international students are in addition to the immeasurable academic and cultural value these students bring to our campuses and local communities.

*Sources used in the economic analysis provided by NAFSA: U.S. Department of Education, U.S. Department of Commerce, and the Institute of International Education for 2020-2021 Academic year.
School
City
Address
Website
Apply
About
Boise State University
Four Year School
Boise
1910 University Drive, Boise, ID 83725
Website
Apply
Boise State University is home to more than 24,000 students from every state and more than 60 countries. In the heart of the city of Boise, you'll get the best of it all: world class academics and research in a vibrant metropolitan city just minutes from breathtaking natural beauty and outdoor recreational activities. Spanning natural sciences, social sciences, humanities, and the arts, academics at Boise State offer something for nearly everyone. On our campus, your options are only limited by your own ambitions. We offer 104 bachelor's degrees, 99 undergraduate minors, 85 undergraduate certificates, 58 masters degrees, 13 doctoral degrees, and 54 graduate certificates. At Boise State, we help you to invest in your future and maximize your potential. With competitive scholarship and funding opportunities, many students find Boise State to be an affordable option for a globally competitive degree.
College of Idaho
Four Year School
Caldwell
2112 Cleveland Blvd., Caldwell, ID 83605
Website
Apply
The College of Idaho has a 130-year-old legacy of excellence. The College is known for its outstanding academic programs, winning athletics tradition and history of producing successful graduates, including seven Rhodes Scholars, three governors, and countless business leaders and innovators. Its distinctive PEAK Curriculum challenges students to attain competency in the four knowledge peaks of humanities, natural sciences, social sciences and a professional field—empowering them to earn a major and three minors in four years. The College's close-knit, residential campus is located in Caldwell, where its proximity both to Boise and to the world-class outdoor activities of southwest Idaho's mountains and rivers offers unique opportunities for learning beyond the classroom.
The Community School
Private School
Sun Valley
1 Community School DriveSun Valley, ID 83353
Website
Apply
Sun Valley Community School was founded in 1973 to provide students with an outstanding independent education in the Wood River Valley, tucked in a spectacular location between 6 mountain ranges. Our standard-setting academic program together with creative arts and athletic programming and a renowned Outdoor Program instill confidence, self-reliance, teamwork skills, and leadership qualities. We encourage students to pursue their passions actively, whether on the stage, the field, the slopes, or in the classroom or wilderness. Special Programs include the Outdoor Leadership Academy (OLA), Sun Valley Ski Academy (SVSA), and Creative Arts Academy (CAA). A thriving Residential Program, founded in 2011, attracts mission-aligned students from around the nation and the world.
Idaho State University
Four Year School
Pocatello
921 S. 8th Ave., Pocatello, ID 83209
Website
Apply
Founded in 1901, Idaho State University attracts students from around the world. We offer high-quality education in more than 250 programs, and are the state's designated lead institution in health professions. Idaho State is a Carnegie-classified doctoral research institution.Idaho State University offers exceptional academics at the heart of an outdoor-lover's paradise. Only a few minutes from campus, you can find world-class skiing and snowboarding, hiking, mountain biking and rock climbing.
Riverstone International School
Private School
Boise
5521 E. Warm Springs Ave., Boise, ID 83716
Website
Apply
Riverstone International School is a co-educational, private, independent school in Boise, Idaho offering our day and residential students the academic prestige of the International Baccalaureate Programs and the personal attention of a supportive community school. Engaging classroom discussions continue when students explore Idaho's mountains and deserts with classmates and teachers. We offer concierge college counseling and athletic, musical, and academic extracurricular activities. Our newly-built residential facility is located in downtown Boise, the third most populous city in the US Pacific Northwest, with easy access to skiing, kayaking, and mountain biking. One hundred percent of graduates are accepted into 4-year colleges.
University of Idaho
Four Year School
Moscow
875 Perimeter Drive, Moscow, ID 83844
Website
Apply
For more than 130 years, the University of Idaho has delivered excellence as the state's land-grant research university. We offer life-changing educational experiences, conduct unparalleled research and scholarship, and connect with communities and industries. From providing a high-quality, accessible education — to leading breakthroughs in clean water, cybersecurity, healthcare, agronomics and fire science — we forge partnerships that impacts Idaho, our region and the world.
In the 2021/2022 academic year, Study Idaho has accomplished a great deal to support the international recruiting efforts of our members. Here are some of the ways we can support your school's internationalization efforts.
A tailored profile of your institution on our website
Free Study Idaho participation in the U.S. Commercial Services Study Destination USA online recruiting events and contact list
A Study Idaho video created by the U.S. Commercial Services to be disseminated globally to U.S. Commercial Services contacts
Strong presence in conferences, recruiting events, and activities not available to individual schools, such as education fairs and national and international exhibits and forums
Innovative approach to recruitment through peer-to-peer seminars for member institutions to form long-lasting relationships with influencers in governmental and educational institutions overseas
Partnership and support of the U.S. Commercial Service offices in Idaho and around the world
Group recruitment missions to key markets
Free worldwide marketing with Study Idaho webinars
Securing Study Idaho Booth and receptions at national NAFSA and other international conferences
Cost-saving group advertising opportunities targeted to attracting international students
Study Idaho compliments and strengthens your current institution's overseas outreach.
We are confident you will find Study Idaho a viable and valuable recruiting channel that supports you and your institutional goals in international education.
We look forward to sharing the benefits and community of Study Idaho as we work toward promoting Idaho as a premier study destination for international students.